Many people in this day and age have started to take content writing and proofreading as careers. The world has become so technologically advanced that there is a dire need for proofreaders who can fix, edit and reshape the entire digital content that looks appealing to the reader. We know that such a need leads to a high number of work proposals, but how to find freelance proofreading jobs online?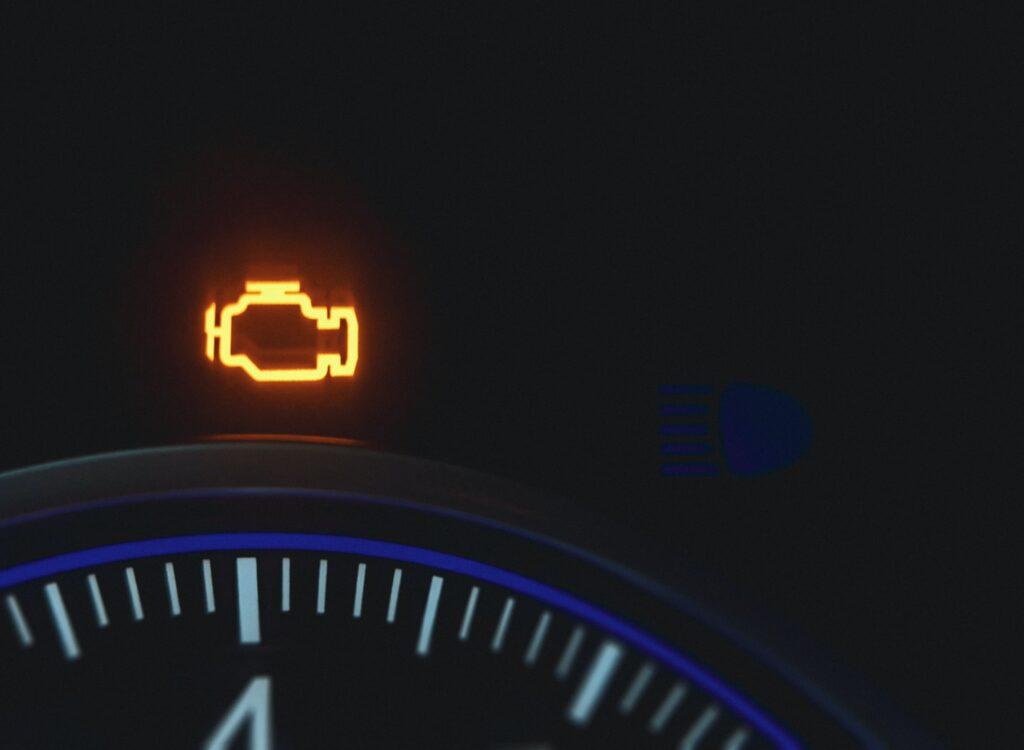 Nowadays, reading books has become more accessible. Gone are the days when you get to go to the book store to get your hands on the most trending recipe book or the most famous biography from a renowned politician. Now e-books are available in all the major retail stores, making it easy for people to purchase them and get to their reading.
Since books, articles and blogs are so reachable; hence there is a need to keep the content quality standards high and great freelance writing sample in your pocket.
More and more readers are finding time to read what is getting published out there. However, not many people know that a lot goes on behind a piece of that article or a favorite book you like to read before bedtime.
Who is a freelance proofreader?
Many writers and proofreaders work together to bring the piece of art to you. A writer's job is to write the content; however, only a proofreader can make the content look sparkly.
There can be many grammatical errors that a writer could make, along with spelling mistakes or wrong usage of a few syllables. Someone has to read the content with fresh eyes to point out the mistakes and eliminate the clutter from it.
Hence proofreaders have some very important tasks at hand. If an academic assignment, book, article, or blog turns out to be of poor quality, it will essentially mean that the proofreader did not do their editing job right.
The editorial process ✍

It might seem as though the editing process is an easy one however, freelance proofreading websites state otherwise. However, there are many types and stages that content goes through proofreading stages.
Stage 1️⃣: developmental edits
When a piece of content comes to the proofreader, they have to revise the whole plot or characters, and the content will significantly change from point A to point B.
Stage 2️⃣: copy edit
A copy edit is when the proofreader makes changes to the content's sentence structure, style, tone, and grammar; if there are any spelling mistakes, they are usually edited during the copy edit stage.
Stage 3️⃣: proofread
This is when the editor reads the Content one last time before making the final submission. The proofreader ensures the content is ready to go and has no issues with the sentence structure, grammar, tone, or spelling.
What education do you need to be a proofreader?
Many people are making their career switches from their corporate jobs to being proofreaders. This is why there is a growing demand for good freelance proofreader jobs for editors in the Industry's market. If you have a bachelor's degree in English, journalism, and communications, then freelance proofreading will be the right career for you.

However, if you have other degrees and a decent proficiency in English, then you can still apply for online proofreading jobs. Most employers want very dedicated editors who have an eye for the smallest details in the content.
If you are a lawyer and want to go into a proofreading job, the best type of niche would be an academic proofreading job.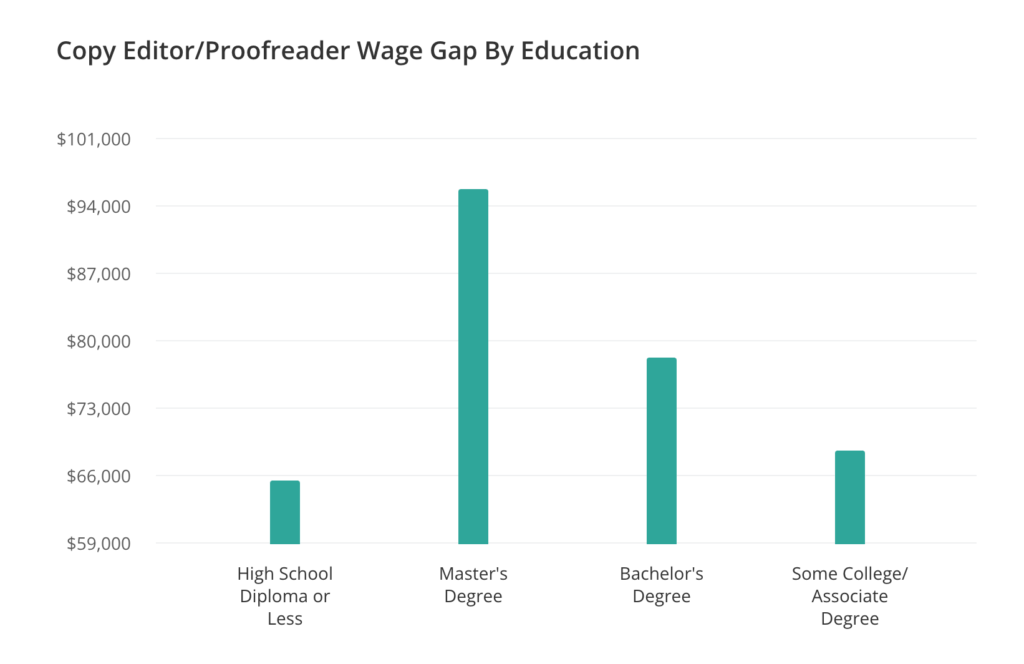 Ideally, employers prefer that those who apply for the editor jobs should have the prerequisite training, which often comes with the proofreading certificate. Hence if you are wondering how to find proofreading jobs or thinking of becoming an editor, it is best that you look online for a course that trains you for the job.
Furthermore, these courses will also train proofreaders on how to write and edit in different styles and niches. Editors will learn things like comma usage, punctuation dialogue, how to reference something if it's academic writing, and many more writing skills that will come in handy if you wish to succeed in your career.
Some stats for proofreaders 📊
According to recruiter.com, there are many proofreading jobs for students in the upcoming years. The demand is expected to go up to 3,510 jobs which need to be filled by 2029. This also shows an annual increase of 5.92 percent over the upcoming years.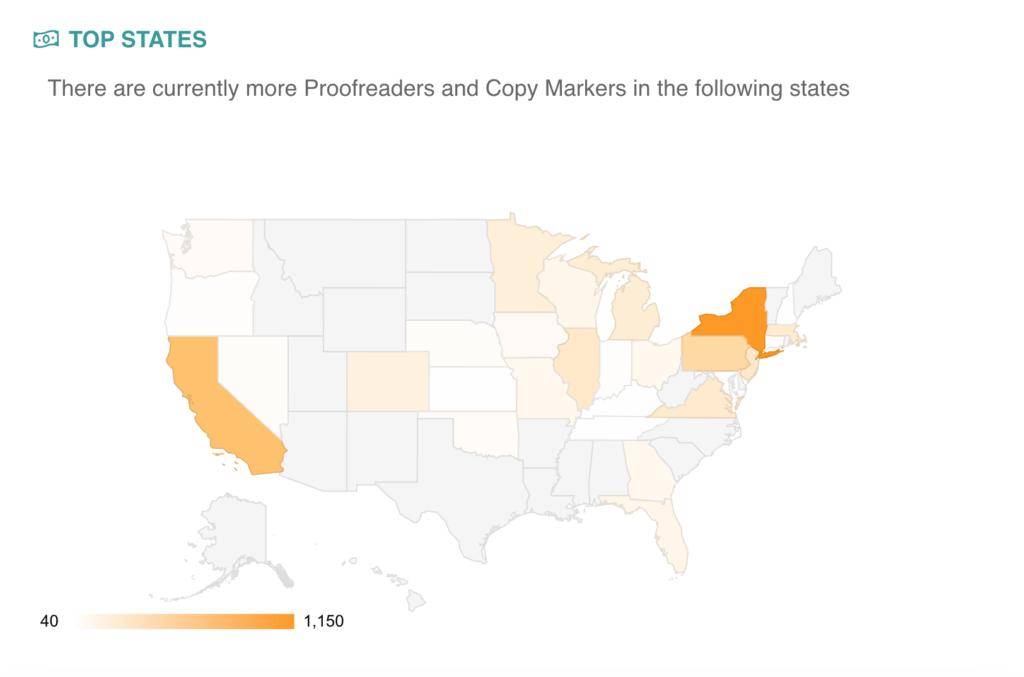 Cities like New Jersey, Pennsylvania, Missouri, New Hampshire, Oregon, Colorado, and Wisconsin have the highest number of freelance proofreading work for editors in the future.
On the other hand, according to Zippia.com, there are about 7,711 proofreaders employed in the United States. Among them, the majority of them are women at a rate of 66.8% against 33.2% men. There is also a rise in part-time proofreading jobs around the world where people are using it as a side job to make extra money.
The profession also does not discriminate against age, as the average age of a proofreader is 50 years. The freelance proofreader's salary is $44,000, and in 2021, 85% of women will earn about the same as what men earn.
How much does a freelance proofreader earn?
If you want to pursue a proofreader career, you must know how much you can earn. According to ZipRecruiter, a professional and a bit experienced proofreader makes an average of about $25/hour on average. In 2021, proofreaders were making an average of $51k a year.
However, the best thing about this career is that the more experience you have, the better you earn.

Hence if you have an experience of ten years, you can demand better rates or fees from your client, and such professionals earn at least $30 – $35 per hour.
Some famous proofreader quotes 🤔
There are some brilliant minds behind the content. Did you know nothing would make sense if there were no proofreader? Writers initially just write trash.
It is a common saying in the content writing world:
It is perfectly okay to write garbage as long as you edit it brilliantly.
This makes a lot of sense; when writers write their first draft, you can't tell apart from different fancy words because they want to get the first draft out and get on to the next one.
"I do my best proofreading after I hit send."
Most of us bang our heads against the wall after sending a formal email to our boss.

Since we spelled their name incorrectly or made a big spell blunder at the start of the email. BUMMER!
Freelance proofreading websites to kickstart your career
There are some great sites that you can sign up on and kickstart your freelance proofreading jobs for beginners' careers in a jiffy. However, there are certain pros and cons to each. Be sure that you study the website, its privacy laws, and its terms and conditions before you give out your confidential data, such as your bank details.
Fiverr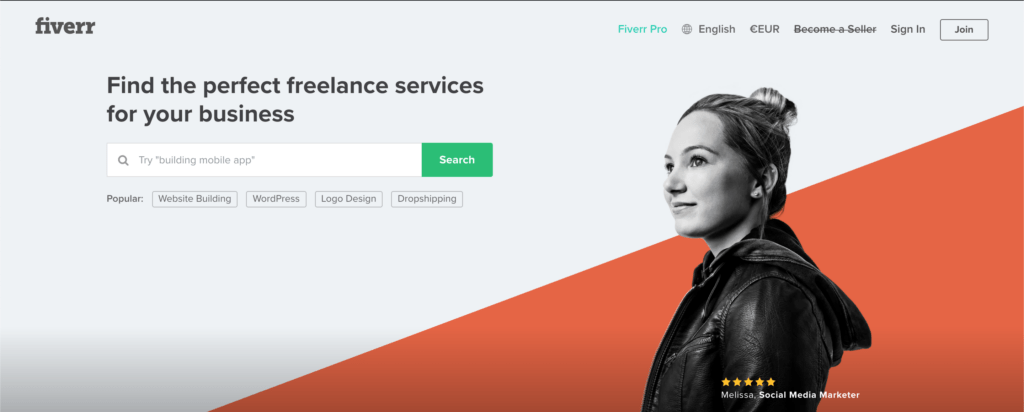 Fiverr is one of the biggest platforms for freelance proofreaders to use. You can be anyone from a videographer, editor, copywriter, or even an academic writer. You can find clients of any type from the platform.
Pros 👍
The platform has a huge clientele, and if you make your profile, you can get a client in some weeks or days.
Cons 👎
The pay is not the best as there is a huge competition on the platform
The platform keeps a big chunk of your pay as their commission.
Clickworker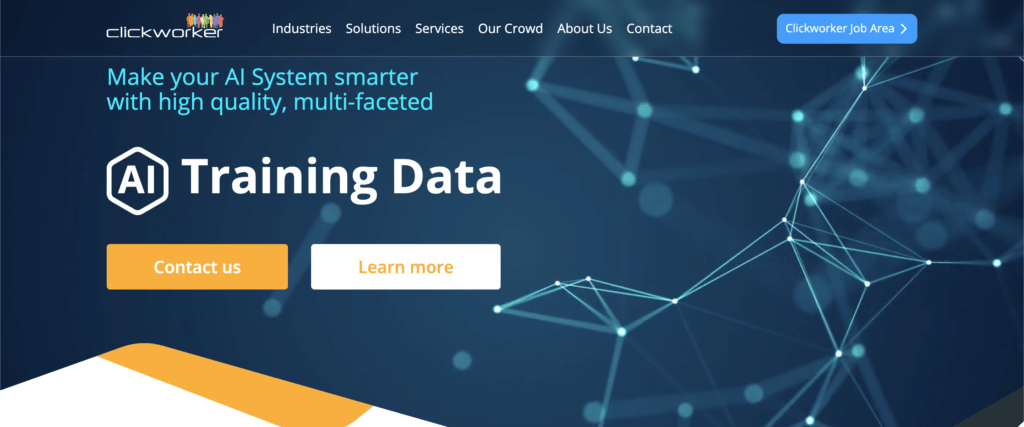 One of the best platforms to start your proofreading career is clickworker. It is one of the biggest platforms that allows users to create their own profiles and showcase their expertise.
Pros 👍
Access to a huge clientele
Remote work is easy to find
Work can be done on your own schedule
Cons 👎
You have to give a test which you have to pass.
Proofreading Services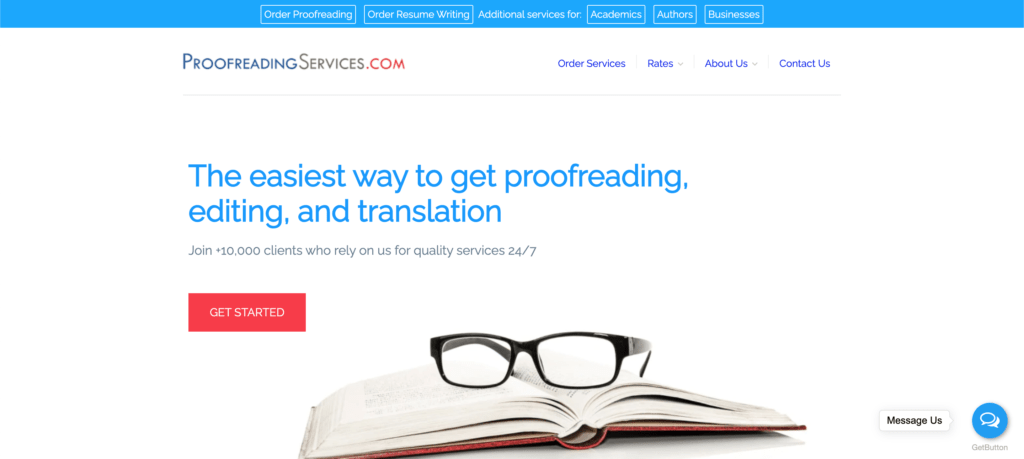 The platform is much like any other; however, it is one of the best platforms for beginners to kick start their editing journey.
Pros 👍
Fixed schedule of offered jobs
The salary ranges from $20 and $40 per hour
Cons 👎
Hard for beginners to ask for more pay
SolidGigs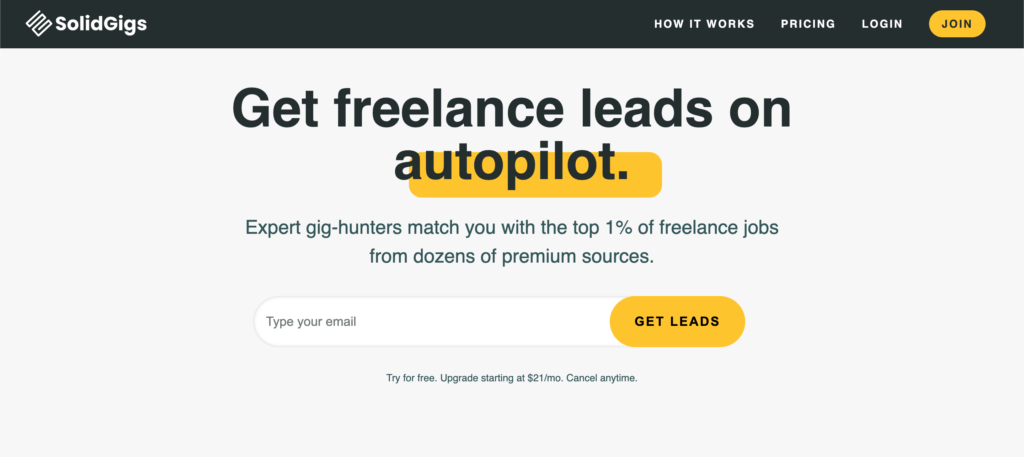 SolidGig is one of the best platforms; if you do not know how to find a freelance proofreading job online, you will need to search a lot. If you dislike searching for your next proofreading essays jobs, with this website, you won't have to spend your billable hours idle but will be working and making money.
Pros 👍
It offers you gigs every week, and you don't have to spend too much time just searching for jobs.
Cons 👎
It has a lot of competition, and it is only for those who don't have any skills to look for clients.
FlexJobs

Flexjobs has many types of online jobs that you can do alongside your proofreading jobs.
Pros 👍
You get to explore other gigs and get a chance to find more money-making opportunities.
Cons 👎
It takes time to land a decent gig, even in your proofreading domain.
Get Editing Jobs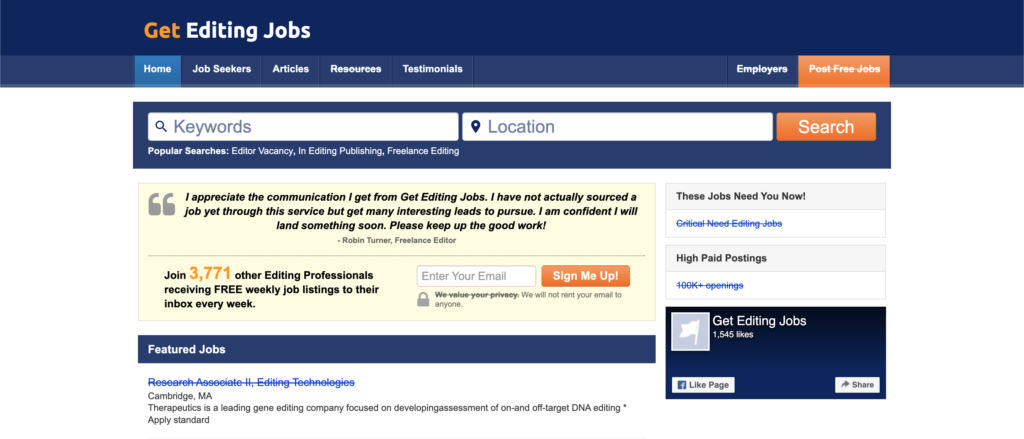 This community has many copywriting jobs; hence you can also search for editing jobs too.
Pros 👍
Cons 👎
The editing or proofreading jobs might be scarce; hence ensure that you enter the right keywords to search for the right job.
Lionbridge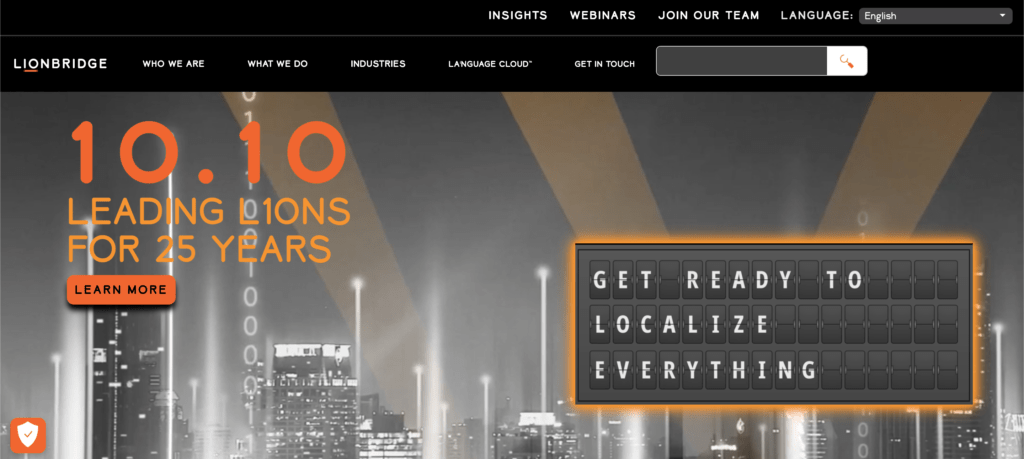 If you are good with grammar, then you can also sign up to Lionbridge to get a few editing gigs to get kicked started with your career.
Pros 👍
Big clientele and easy to land gigs
Cons 👎
You will have to pass a skillset; however, you can do so easily if you are good with grammar.
Upwork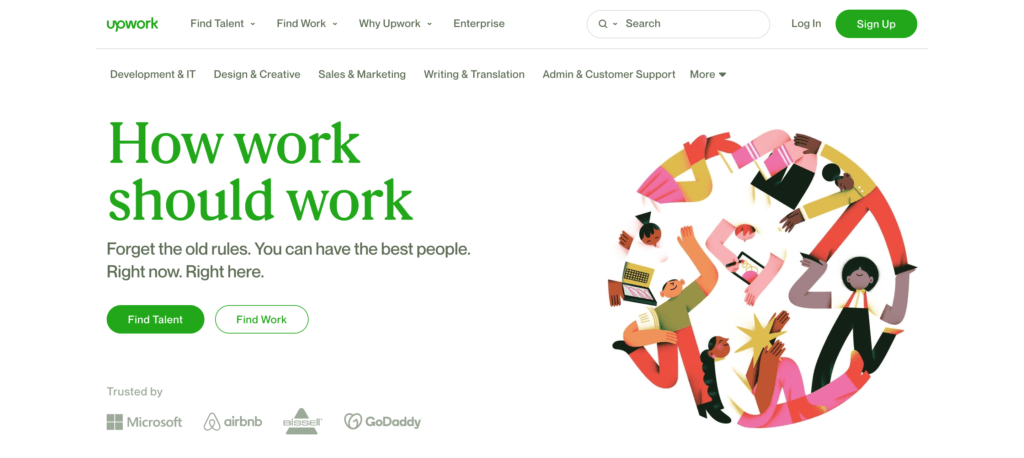 UpWork is one of the largest freelance platforms and has many types of jobs and clients. Like with freelance writing jobs, if you are a beginner, you can sign up and get started with your editing career.
Pros 👍
Large client portfolio and secure transactions
Cons 👎
Hard to get gigs unless you spend money on connections to submit proposals
The tough screening process hence ensures you have made your profile with accurate information
LinkedIn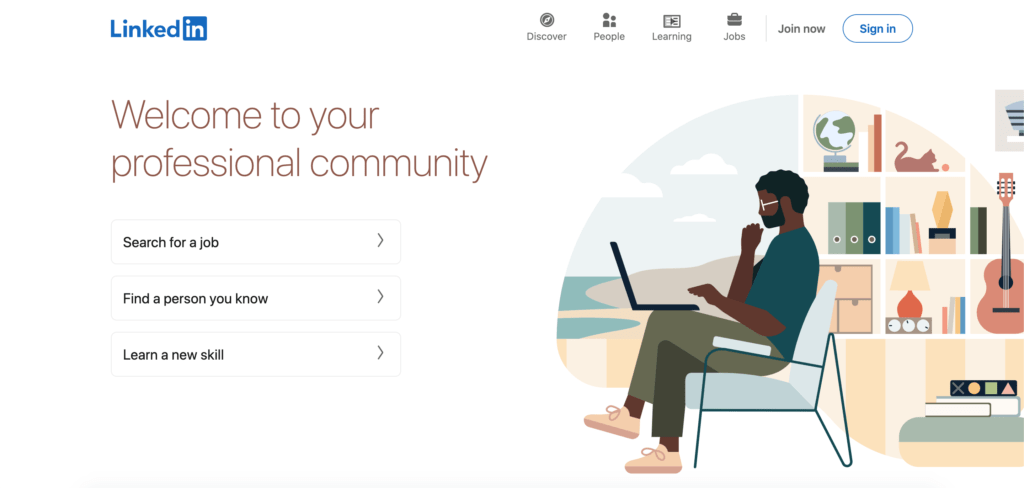 For freelance writers and proofreaders, Linkedin is one of the biggest job-seeking platforms; it also offers many freelance proofreading jobs to beginners. Hence be sure to create your profile online to land better gigs.
Pros 👍
Many jobs to search by using keywords
No fees or commission
You can directly connect with job posters
You can create a community of proofreaders and have access to better jobs.
Cons 👎
No security
No payment method
Too much competition on one job opening
Contena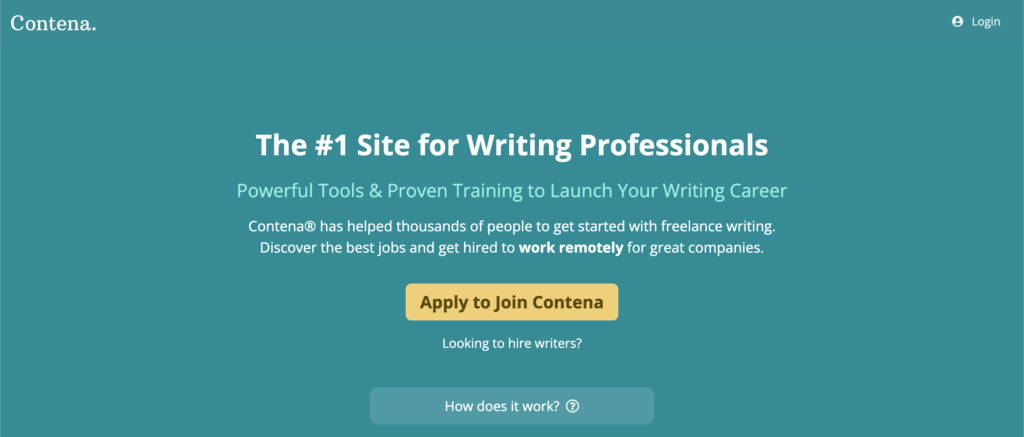 Contena is one of the best platforms you can sign up for if you want to get paid proofreading gigs. They have a large clientele and are becoming popular by the minute.
Pros 👍
It takes only five minutes to make an account on Contena.
Cons 👎
Too much competition on the platform
Personal accounts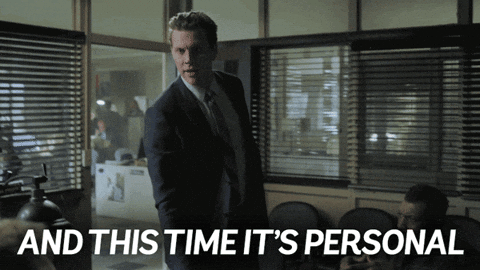 Editing is one of the ways you can learn about many subject matters; hence if you are hungry for knowledge, you can start as an editor and become a very learned individual.
Let's take as an example Tony. He also had a great love for the English language. However, he felt that he didn't want a full-time job, so he decided to start off his career as a freelance proofreader. This way, he was able to do what he loved and was also able to earn a decent amount from that. His career took off in just the right direction, and this also resulted in him having more control of his life, just the way that he wanted.
I now have the freedom to management my own time and workload, with no more commuting and a better work life balance. I indulge in my other passions: reading, photography, cinema, and music. But mostly, I spend more time with my family.

Tony
Once you get the hang of things, you can start editing in a flow. The feeling of seeing your own published articles on a website or a magazine is a breathtaking experience.

You can also grow your earning potential and make a better living for yourself with time. There will be a time when you will start getting clients on your own and not rely on any agencies. It happens, and it takes time, but you will get there and make it big.
P.S.
You can also add a blog on your personal website and share specific tips and tricks from your personal experience. Afterward, you can monetize your blog and earn extra. Isn't it a great chance to earn even more? 😉
Now you are ready to find freelance proofreading jobs online
As you might already realize, proofreader essay jobs online are aplenty; however, you need to have the right eye to get the right gigs for your niche.
Spend time learning and working in a particular niche to do better in your editing career. I wish you all the best with your freelance proofreading work, my friend 😉
Should you have some other tips and tricks for finding a website with proofreading jobs online, please leave your thoughts in the comments section below. I'll love to hear them.